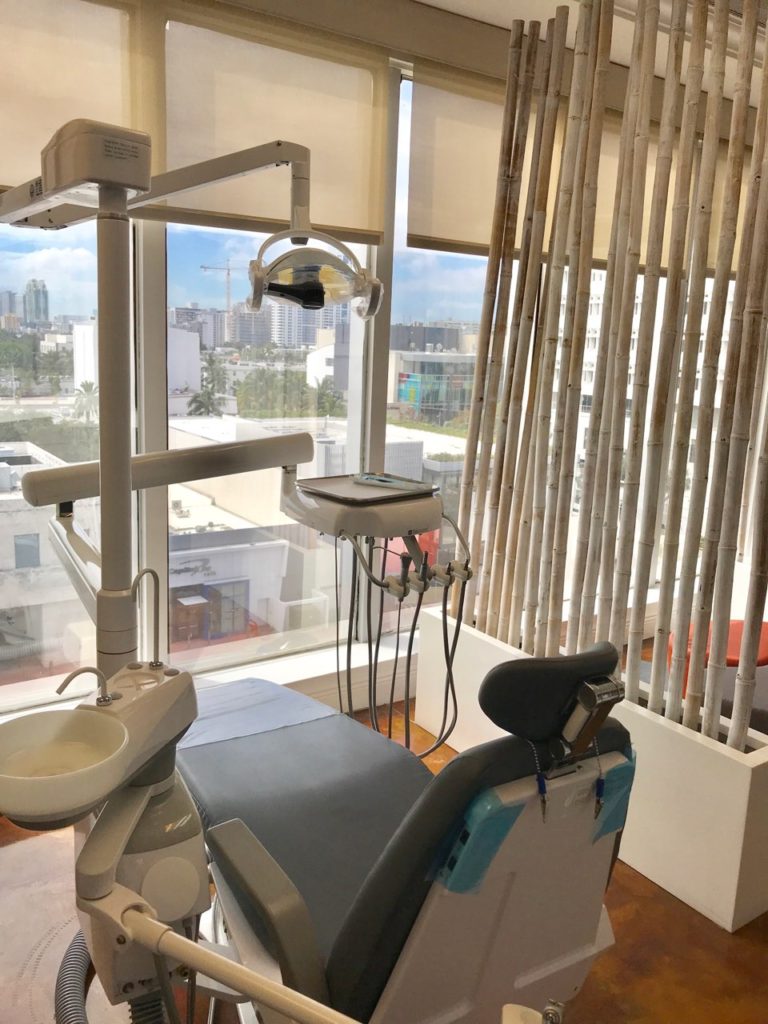 Beach Dental Center is a General Dental practice dedicated in treating all phases of dentistry. We have been located in the heart of South Beach for over 30 years. Our experienced and dedicated staff will make you feel at ease during your dental visit.  We offer all of the latest cosmetic dental procedures as well as regular recall visits.
Although we do offer same-day appointments when available, we encourage making appointments as far in advance as possible.  Our friendly staff will be happy to answer any questions you have regarding scheduling and payment arrangements.  We offer Zoc Doc which will allow you to make online appointments and will text or email you the confirmation of your appointment.  You may also call our office at 305-532-3300 and speak to our front desk staff to make an appointment.
We guarantee all medical and dental records are kept completely confidential
Georgia M. Hernandez D.M.D.
Georgia earned an undergraduate Chemistry Degree at the University of Florida in 1984 and successfully graduated with a D.M.D. Degree from the University of Florida in 1988. Georgia is both a member of the A.D.A. and FDA.
She is a proud member of the Miami-Dade Partners and Robert Morgan Foundation.
Michelle Boggs
Michelle joined the Beach Dental Center in 1996 and worked for as Dental Assistant. She graduated M.D.C.'s dental hygiene program in 2003 and is a state certified Dental Hygienist. Michelle has worked as Beach Dental Center's Dental Hygienist since graduating in 2003.
Zuly Herrera
Originally from Cuba, Zuly has worked at the Beach Dental Center since 1995. She is our Head Dental Assistant with over 20 years dental experience.
Vianca Cabrera DMD, CAGS, MSd Periodontist
Dr. Vianca Cabrera was born and raised in Miami, Florida. She received her Bachelor's Degree from Duke University in Durham, North Carolina. After graduating from Duke University, she returned to Florida and obtained her Doctoral Degree in Dental Medicine from Nova Southeastern University. Upon completing dental school, she moved to Boston Massachusetts to pursue her chosen specialty of periodontics at Boston University. She earned a Master's Degree of Dental Science in Oral Biology and a Certificate in Periodontics and Implantology. Dr. Cabrera, a Florida board certified dentist, is a member of the American Academy of Periodontology as well as the American Dental Association, the Florida Dental Association and the South Florida Dental Association. Dr. Cabrera is further certified in oral and nitrous oxide sedation and in the very popular Pinhole Gum Rejuvenation Technique.
Leilani Ponce
Leilani was born and raised in Miami Beach, FL. As our office manager, Leilani enjoys working with our patients. She is responsible for coordinating the flow of operations, including presenting treatment plans, handling patient transactions, processing insurance forms, database maintenance, and supporting various marketing activities.